It's mid-October which can only mean one thing. It's time to start brainstorming ideas, beautiful backdrops and matchy-matchy but not too matchy-matchy ensembles for the annual family Christmas cards.
The photographer in me just can't help herself and I would be lying if I said I didn't start thinking about these sorts of things while I was still pregnant with Maclane. Four months ago. In fact, I may have already nailed down everyone's outfit and chosen a location.
What can I say? I love a good plan.
Now that those decisions have been made, I like to check out my card options so that I can kindly offer suggestions to our photographer as to how to take our pictures. The best poses, the best angles, etc. Thankfully our photographer is my Dad and he doesn't mind me wearing my Bossy Britches to our photo shoot. Or, if he does, he doesn't say it out loud.
Right from the start I visit Shutterfly's website and narrow down my options based on some things that are must-haves when it comes to the M Family Christmas card. Things like: it must be a flat card, 5x7 in size, made from premium card stock and display only one picture. If I can find one that I like that bears our monogram or initial? It's usually a shoe-in.
It also must be said that I prefer for whatever photo we choose to do most of the talking. Again, it's the photographer in me.
Here are my top five front runners for 2012: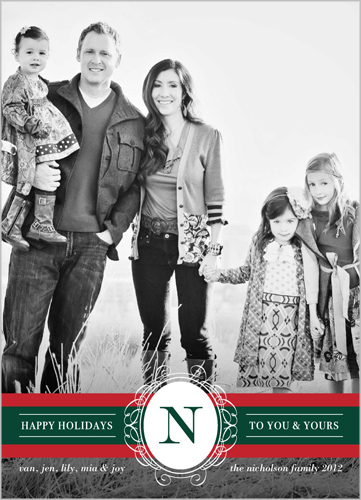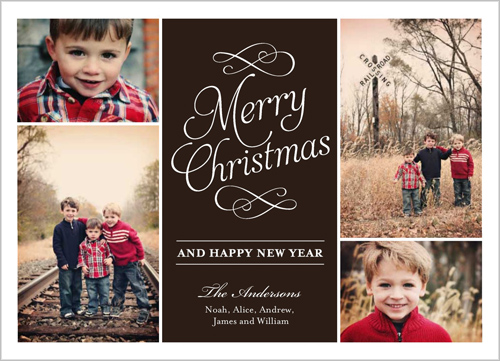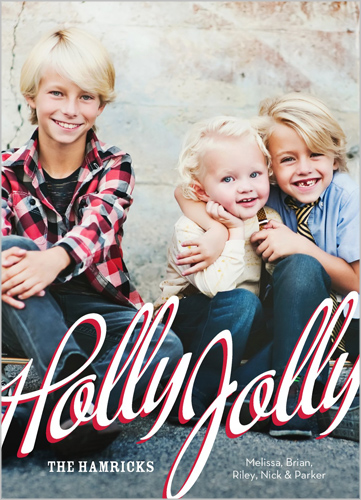 Not too shabby, huh? Needless to say, I like to keep things simple. If simple just isn't your thing and you prefer bold and bright, Shutterfly has plenty of cards to deck your bold and bright halls as well. You should check them out and while you're at it, check out their special offers page too. It's there that you'll be able to find discounts on shipping, address labels, stationery and more.
So, what's on your must-haves list for holiday family photos? I know I can't be the only one who starts thinking about this sort of stuff during 4th of July fireworks.
Or maybe I am. Like I said, I blame the photographer in me.
Want to enter a giveaway for $50 toward your next Shutterfly order? Use the Rafflecopter widget below to enter today!
**I did not receive monetary compensation for this post, however I will be receiving a discount code towards future Shutterfly purchases. The opinions shared above are honest and purely my own. Visit Shutterfly's blog today to learn more about one of my favorite companies.