As the temps around here drop lower and lower I can't think of much else other than comfort food that I want to cook in the kitchen. Whether it be baked, breaded or fried, I'm all about hearty, hot and delicious dinners that keep our family feeling warm from the inside out.
Last week I had the bright idea to try making a chowder in the crock pot. I had frozen chicken breast, a can of Cream of Celery soup and some frozen corn to start with and I knew these three ingredients would make the perfect base for some type of chicken and corn chowder.

As I began turning to Pinterest and the Internet for a recipe, I wasn't "wow'd" by what I found not to mention that with each recipe I stumbled on, I was missing at least 1 or 2 key ingredients and I wasn't about to throw the kids in the car and run out to the store.
So? I made it up as I threw one ingredient after another into the crock pot and the result? Delicious. So, so delicious and perfect for those cold nights!
4 chicken breast, mine just happened to be frozen
1 can Cream of Celery Soup
4 red potatoes, peeled and cubed
1 small can diced chiles, drained
1 small can sliced jalapenos, I de-seeded most of mine but you can leave the seeds for an extra kick.
Frank's Hot Sauce, to taste
flour, as needed to thicken chowder
Mexican shredded cheese, to taste
1. Season chicken breasts with salt and pepper before laying them in the bottom of your crock pot. In a separate mixing bowl, broth, soup, and half and half.
2. Stir in your frozen corn, cubed potatoes, chiles and jalapenos. As I mentioned earlier, I de-seeded most of my jalapenos. This rendered the chowder not spicy at all. The next time I make this, I will leave more of the seeds intact for a little kick!
3. Pour mixture over your chicken and cook on high 4-6 hours.
4. At the 4 hour mark, remove chicken from crock pot, shred and return to crock pot. Add your stick of butter by slicing it into even pads and placing it into the pot. If your chowder appears too water-y after returning the shredded chicken, add 3-4 tablespoons of flour to thicken and stir.
5. Turn your crock pot to low and allow to cook for another hour. Again, if chowder continues to appear water-y add flour to thicken.
Serve chowder piping hot with hot sauce and shredded Mexican cheese to taste. I prefer to be a little heavy-handed with both! And of note? It's even better when warmed the next day!
Husband-approved and a definite addition to our winter comfort meal rotation!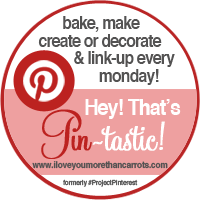 Welcome to Week 17 of Hey, That's Pin-tastic, a weekly link-up that encourages you to choose one pin from your pin-boards and bake, make, create or decorate it! Most of all, DO IT!
Once done, grab the official button, write about it and come back here and share your pin-wins and pin-fails! Each post that includes the button (or a link back to ILYMTC) will be pinned to the Hey, That's Pin-tastic pin board with over 3,399 followers! Holy Pinterest, that's a lot of exposure!
I can't wait to see what you've been pinning and doing lately! See you next Monday!