This isn't the first time I've gushed over adorable clothes for the boys and this most definitely isn't the first time I've gushed over adorable matching clothes for them. One of my favorite holidays to dress them up in something cute and matching is Valentines Day and when I began my hunt for the perfect matching shirts, I knew exactly where to look first.
If you're new here then you've probably never heard me rave about Etsy shop Room to Romp. Hands down this is one of my most favorite handmade shops to find one-of-a-kind playclothes for both Carter and Maclane.
It's no secret that shopping for boys clothes is difficult. From a mom who wants to keep her babies as little as she can for as long as she can, sometimes it's difficult to find clothes that fit their age.
Goofy sayings, skulls and crossbones? You won't find a stitch of those in Sandy's shop. Bright colors, whimsical designs, fun appliques? Her store is chock full of them.
Most of all? The playclothes you'll find in Room to Romp are affordable. There's nothing worse than falling in love with a custom piece of clothing only to learn that it's going to break the bank.
Today I'm sharing with you a special applique t-shirt that Sandy created for Valentines Day. You can find this shirt right here in her shop for only $15.
The applique is hand drawn, cut, and sewn using a basic sewing machine. No commercial embroidery machine is used, giving the garment true handmade, simple appeal.
I absolutely adore this Heart in Heart Valentines Day shirt that Sandy has whipped up in honor of love day. Simple, classic and just out-of-this-world cute, I couldn't wait to dress the boys in a matching onesie and t-shirt set.
Sandy also offers an adorable pair of red and white reversible pants that would make this outfit look ten times sweeter!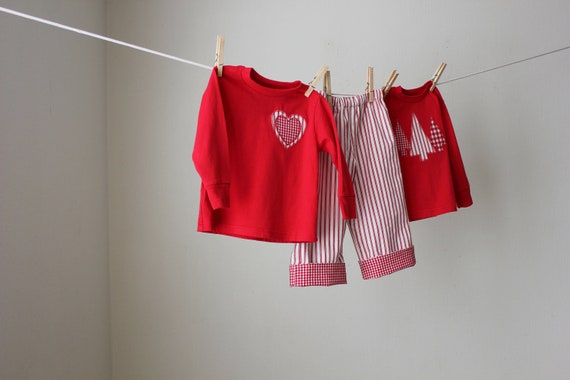 Sandy has graciously offered to custom create one Heart-in-Heart custom applique t-shirt or onesie for one lucky Loyal. To enter, simply follow the prompts in the Rafflecopter widget below!
a Rafflecopter giveaway