With a few larger than life projects underway, this week I'm sharing a super easy
organization pin
that has truly been a life-changer! All you will need to accomplish this pin is the inside of a cabinet door, a Command hook and, if you're anything like me, those pesky baby bibs which, once you've realized you didn't have a proper place to store them, were shoved into a random kitchen drawer between your Pyrex dishes and Tupperware lids.
Simply affix the Command hook to the inside door of your cabinet, hang your bibs and voila! Easy hanging baby bib storage. What's better is that you can hang them on the inside of your dedicated "Kid Cabinet" without shoving them in there mucking up obsessively organized sippy-bottle-pacifier-bowl-and-cup cabinet. Or something like that.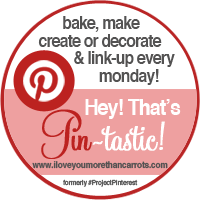 Happy New Year, Pin-tastic...ers! Welcome to
Week 15
of Hey, That's Pin-tastic, the weekly link up where you pick one pin that you've recently pinned, create, bake, make or decorate it and return here to share the pin wins (and fails) that you've recently tested and tried!
Be sure to grab the Hey, That's Pin-tastic button from the side of ILYMTC and add it to your post this way your readers will be able to check out all of the other pin-tastic pins! As always, each post that includes the button or a link back to ILYMTC will be pinned to the "official" Hey, That's Pin-tastic pin board (with over 3,100 followers). So? Stop pinning and start doing! I can't wait to see what you've all been up to these last couple of weeks! Happy Monday!