Can someone please tell me why we don't come down here more often? Clearly there must be something wrong with me. As a stay-at-home Mommy with a.. let's just say..
very flexible
schedule
, I find myself yearning to take fuller advantage of our ahem,
situation
. And simultaneously slapping myself upside the head for not thinking of this sooner.
This little beach getaway with the M Family? Absolutely divine. As soon as our toes hit the sand, our spirits improved and The Sickies seem to be disappearing at a rapid rate. I couldn't ask for better weather or better quality time with my three favorite guys.
For once, Loyals, I am snark-free. Can you believe it? I'm practically oozing with good vibes. I'd better not stay too long down here or else all of my posts will soon be full of lollipops, dandelions and unicorn fluff.
I have to say it. There has been no shit-losing since our arrival. Whew.
Sending some delicious beach vibes your way... And completely over-edited pictures via Picnik. What can I say? I'm using a MacBook Pro and am thoroughly missing my Windows functionalities. All while drinking my coffee and staring out at the bay.
Happy Saturday, Loyals.
-The Husband, AP & Baby C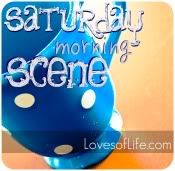 Have you linked up with favorites Kate and Eme?