Holy shit, I've never been so happy for it to be Friday. Can I get an "Amen?"
In case you were wondering, my birthday is one week from today. I'm now accepting gifts in my honor.
I've also gone ahead and lined up some pretty awesome giveaways between now and then because let's face it, everyone loves free shit.
And what's even better than free shit? Free cool shit.
The first giveaway comes from one of my favorite reads and comeback sponsor, Cookies For Breakfast. At any given time, I can pour myself a cup of coffee, saddle up to Heather's blog and laugh so hard I choke. Or shoot coffee from my nose, which, mind you, has actually happened.
Check out Heather's blog and be sure to scroll to the bottom and enter her awesome giveaway for a darling personalized mother's necklace.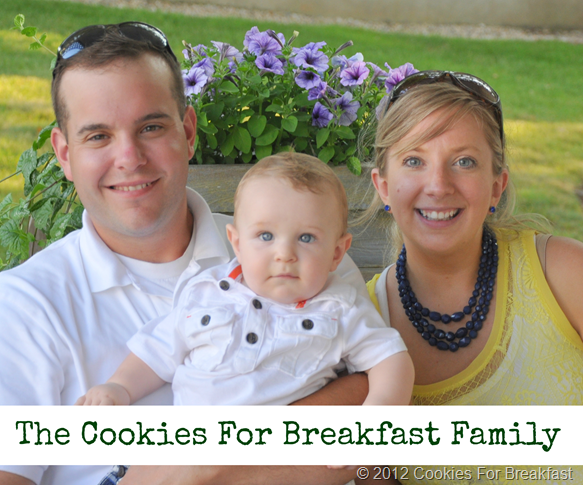 Hello new friends! I'm Heather and I blog at Cookies For Breakfast.
Mixing motherhood with pleasure since 2011.
That's me, my cutie little (okay, I won't play games with you… he's not little… if babies came in clothing sizes, he'd be a 2XL) 9-month-old son, Benjamin, and my husband, Derek.
I'm a 29-year-old former global brand marketer turned accidental hippie. Perhaps the hippie part is a little bit of a stretch. I do lots of crunchy things that lead my husband to suggest I go live in a local commune. But I'm pretty sure that if I rolled up on dubs to the commune in my SUV, eating a bowl of processed cake mix batter, and blasting Britney Spears, well, I'm quite positive I would be turned away.
It goes without saying that I'm obsessed with my child. Other than him, I love big sunglasses, dabbling in photography, reality TV, buying massive amounts of parenting books but never reading them, celebrity gossip, cooking, wine, and of course, cookies for breakfast.
In short, Cookies For Breakfast is not just another mommy blog - stop by for some snark, a little sass, and tales of raising a little (big) boy.
If you like what you see here today, come join the fun everywhere I social-medialize!
Blog
,
Facebook
,
Twitter
, Instagram
And now, the GIVEAWAY!
Ever since having Benjamin, I'm constantly looking for things to emblazon his name on. Jewelry, keychains, tattooed on my ass (I kid, I kid), you name it. It's become a bit of an obsession. I can even almost understand why people have their children's faces tattooed on their bodies. Almost. But not really.
(I'm looking at you, Amber from Teen Mom…)
Anyway, I have this crazy sense that I'm not the only mom who is like this, so the most perfect giveaway I can think of for the ILYMTC readers is…
Drumroll please…
A mother's necklace!
The winner will receive one of these adorbs personalized "key to my heart" necklaces!
I may or may not be contemplating buying one for myself. Honestly – I can't resist this kind of stuff!
Good luck and be sure to use Rafflecopter to enter below!
a Rafflecopter giveaway