Let's get two things out of the way- these are not muffins. These are "cupkins." They are a delicious marriage of the cupcake and the muffin which makes them perfectly acceptable not only for morning consumption but any time of the day.
Also? The first time I made them they were drier than the damn Sahara and I followed the recipe to a "T." Since then I've made them more times than I would like to admit and have thus tweaked the cook time making them the most delicious cupkin ever.
This delicious recipe comes from this pin:
Amended: I hate when pins don't lead anywhere. Sorry about that. Here's the real recipe followed by the tweaks I would suggest making.
1/4 cup butter, at room temperature
1/4 cup canola oil
3/4 cup sugar
3 large eggs
1 tsp. vanilla
1 3/4 cup all purpose flour
2 tsp. baking powder
1/4 tsp. salt
1/4-1/2 cup Nutella, at room temperature (I think I used closer to 1 cup, plus I snuck in an extra spoonful or two to my mouth...)
Preheat the oven to 325F. In a medium bowl, beat the butter, oil and sugar with an electric mixer until light and fluffy. Add the eggs and vanilla and beat until smooth.
In a small bowl, stir together the flour, baking powder and salt; add to the butter mixture and beat on low speed just until combined. Divide the batter between 12 paper-lined muffin cups. Drop a spoonful of Nutella on top of each, and swirl through the batter with the tip of a bamboo skewer or knife. Bake for 25-30 minutes, or until springy to the touch. Cool on a wire rack.
Of note? The batter is THICK and it should be to swirl the Nutella in. But don't be surprised, like I was, when it's kind of really thick.
A few adjustments?
1. Bake time. The recipe suggests baking them for 25-30 minutes at 325* which es exactly what I did the first time around. After a little trial and error, I would say baking them at 325* for 17-20 minutes is ideal.
2. Don't use muffin cups. I am an avid hater of the muffin cup.
3. Lastly? A little chocolate frosting never hurt anyone. I whipped up a simple buttercream chocolate frosting using butter, confectioner's sugar, cocoa and a touch of milk and it complimented this cupkin perfectly.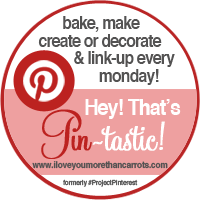 Welcome to Week 18 of Hey, That's Pin-tastic! Be sure to link up your posts below and include the HTP button! You can grab the button along the right side of my blog by highlighting the code in the grab box and using your shortcut keys (Control + C) to copy it to your clipboard. Simply embed it in your post and return here to link up!

As always, each post that includes the button will be pinned to the official

Hey, That's Pin-tastic pin board

, followed by more than 3,460 people! Happy Pinning and most importantly, Happy DO'ing! I can't wait to see what you all have come up with this week!