For Valentine's Day I bought my husband a waffle maker. I don't know how we've made it through five plus years of marriage without one but as weekends would creep up on us, we would lay in bed most Saturday mornings and wish that we had a waffle maker. Finally, I remedied this buy giving the love of my life one for Valentines day.
Nothing says I love you like a waffle maker, no? Since owning the waffle maker, I have become obsessed with breakfast. Every morning it's like a fun little game that I play with myself as I herd the boys downstairs, deciding what I'll whip up in the kitchen. It needs to be said that I rarely get this excited about making dinner.
Now, I've never even made Monkey Bread, despite always wanting to. But something about smaller portions and cute little muffin tins full of this ooey-gooey bread seemed much more my speed. Although not as easy as it sounds, this has got to be one of the easiest recipes to follow ever in the whole wide world.
The recipe calls for them to be topped with vanilla glaze which I'm sure would be a scrumptious addition however I'm almost certain that had I whipped up the glaze, I would have developed diabetes immediately.
There are recipes all over Pinterest modifying this very recipe- some add peanut butter, nutella and other bananas. Down the road I'm sure I'll find myself being more creative but a freezing cold Sunday morning, these were the perfect mate to a steaming hot cup of coffee.
My husband couldn't have said it any better, "These things are so good they should only be made twice a year; Christmas and Easter morning." And that's coming from a guy who has hardly a sweet tooth!
What You'll Need (Recipe modified from original):
2 tubes of Pillsbury Dough Dinner Rolls
1 cup brown sugar
2 tablespoons corn syrup
6 tablespoons butter
4 tablespoons cinnamon
What You'll Do:
Preheat your over to 350*
Start by combining your brown sugar and cinnamon in a medium boll. Make sure the two ingredients are well mixed.
Then, melt the butter and corn syrup in a small bowl.
Next, roll your dinner rolls into balls. You'll want to combine two dinner rolls for each ball. Using a pizza cutter, slice each roll into six even chunks.
Heavily grease the muffin cups of a standard muffin tray.
Drop your dough balls into the butter mixture so that they become fully coated. Toss them in with the brown sugar and cinnamon.
Once evenly coated, drop five sugar scrumptious dough balls into each muffin cup. I kind of pressed mine in a bit to make sure they would stick to each other.
Bake at 350* for 15-18 minutes.
Enjoy while still piping hot and melty. Pair with coffee or hot cocoa for added deliciousness!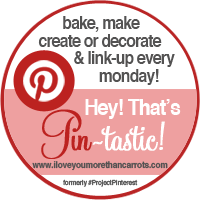 Welcome to Week 20 of Hey, That's Pin-tastic! The weekly link-up that challenges you to choose one pin from your pin board and bake, make, create or decorate! Twenty weeks. Can you believe it? I know I can't. That's a whole lot of pinning and doing! Be sure to grab the Hey, That's Pin-tastic button and embed it in your post this way people can come back here and find inspiration from other's Pinterest boards. Those posts that include the button (or a link back to ILYMTC) will be pinned to the official Hey, That's Pin-tastic pin board. Happy Monday!