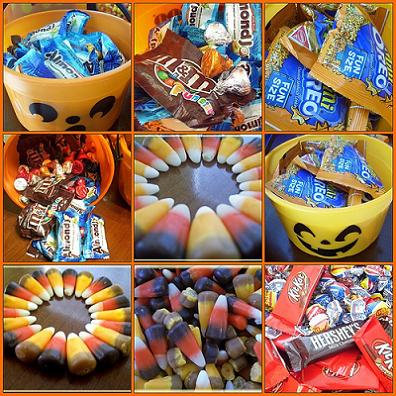 image via
My Dad loves it even more.
I'm proud to say we've always had
the best Halloween decorations on the block.
Some may think them over the top,
what with the fog machines,
strobe lights and scary music
piped through the open windows,
but nonetheless, our house always looked
AWESOME.
I've been a candy-holic since being introduced to the stuff in grade school.
You know, I grew up in a house where
I wasn't allowed candy, sugary cereal, bubblegum, etc.
But enter grade school?
And kid's birthday parties? And funfetti cupcakes?
This is our first Halloween in a real house,
which means real trick-or-treaters,
which means we obviously needed to stock up on lot's of candy.
Because you know, I'll be damned if we were going to be
that gives out something
lame
like toothbrushes or bags of pretzels.
Hubs and I must've come home with 10lbs. of candy.
And a really great tub to dump it all in.
Which is where the candy has been sitting,
in bags, since we brought it home over three weeks ago.
And I've been so good.
That is, until last night...
The temptation was just too great.
And that mini Twix
And that York Peppermint Patty
And that mini Snickers
And that second mini Snickers
was just too damn good.