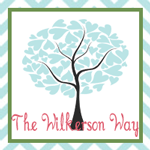 Amanda is the beautiful wife and twin Mama behind the blog The Wilkerson Way. She is also one of my absolute favorites because she was my 1,000th Loyal! Amanda writes about life with multiples and is currently taking part in Project 365! I can't help but swoon over the picture she shares of her two beautiful babies, Emma and Levi!
Amanda recently shared a
delicious recipe for lasagna
and I cannot wait to try it out in the M kitchen! Be sure to head on over and say a quick hello to Amanda and
follow her on Twitter!
And last but certainly not least, one of the many, many reasons I need to birth a baby girl...
Loyals, I am so excited to introduce Carey's adorable little Etsy shop to you, One Little Monkey. She is a beautiful Mama to a handsome Toddler Man and in her free time, manages to create THE most adorable hair accessories. She hand creates beautiful floral headbands both on elastic and crocheted material but that I am most in love with are her clippies. I truly, truly cannot get enough of them! The cuteness factor alone is just out of this world! You think I'm kidding? Take a look..
Be sure to follow this creative and crafty Mama on Facebook where she posts about flash sales, giveaways and more. You also won't want to miss a single tweet of hers here!
Thank you SO much to the fabulous and amazing ladies who are February sponsors of I Love You More Than Carrots!