It's that time again! I'm popping in to introduce the first of many April sponsors here on ILYMTC! I cannot say enough how much I adore these blogging ladies and it's been such an awesome pleasure getting to know them and their families over the past few weeks/months and sometimes even years!
Today's post features some incredible ladies and their blogs. You'll soon note how I've broken down the sponsors into separate posts.
Later this week, I'll be introducing some fresh new faces around these parts, followed by some amazing and incredible shops and direct sales companies that you won't want to miss!
A big, huge thank you to this month's sponsors! Happy reading, Loyals!
Sam describes herself as a "

general "lawschoolstudentinbetweennewlywedandmakin'babies blogger" and I couldn't have said it better myself. With a soft spot for turtles, her handsome husband and rock-n-roll, she writes about life as a newlywed, law school student and then some. Oh and her love for those things mentioned above? In no particular order, of course. I'm pretty sure she loves her husband more than turtles.
Be sure to visit her blog and check out some of her favorite posts here. She's currently kicking ass on a major weight loss journey which you can read all about here. Be sure to head over and show her some love!
Kim shares her incredible story of weight loss, fertility struggles, her adoption of a beautiful baby boy and finding out the same night that she was pregnant with another sweet miracle baby boy of their own at her blog, Faith, Grace and Giggles.
One of my favorite things about Kim's blog is her voice and how she writes about the honesty and messiness of life with two toddler boys! She recently wrote a post all about "keeping it real" and the reality of life with two toddlers! Amen, Mama!
Lindsey, the voice behind the adorable blog Love to the Moon and Back Again, is the beautiful Mama of two adorable little girls and writes about life and everything in between. Before becoming a wonderful SAHM, Lindsey worked as an incredible Labor and Delivery nurse and truth be told, is just an absolute wealth of knowledge and reassurance out there for all of us Mamas and Mamas-to-Be!
Now, I know this isn't the first time you're hearing about this next lovely lady around these parts. Pamela is my very own sistah-in-love and the "newlywed-ish" voice behind the blog Our Love Nest. It's there where she writes about balancing life as a new-ish wife, fancy pants fashionable homemaker and occasionally, she'll even get her craft on with me.
Jordan is a gorgeous little lady who blogs about life, love and everything in between. With her
handsome man, B, by her side, anything is possible! And believe me, she does it all.
She currently is in the midst of running her very own social media and marketing company, Rothwell Marketing and balancing a life of family, friends, healthy eating, fabulous fashion finds and well, being a downright awesome girlfriend. RMC recently celebrated it's six-month anniversary as an established LLC! You go, girl!
Meet Cheryl. No, really. Quick, pop on over and say hi! She's the awesome Mommy behind the blog, Naptime is the New Happy Hour and you don't want to miss a second with her and adorable son, Colby.
She blogs about all things Motherhood and with boys so close in age, it's been a real treat to swap stories (and favorite brands of wine) with her! I also find her fabulous
Friday Fancies
posts just absolutely drool-worthy and appreciate her fabulous sense of style!
If you are not already following this hot Mama's blog then you are surely missing out.
Her snark and sass is right up my alley, not to mention that I am a sucker for handsome little baby boys and her son, Ace, rivals Carter's cuteness any day! I've also been known to steal a
recipe or two
from her, only the ones that are MK-approved, of course!
Be sure to head on over and show this fellow-Maryland girl some love both on her blog and
Facebook Page
as
well! If you, too, can't get enough of her, make sure you're following her on
Twitter
too!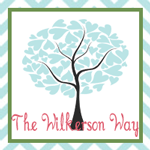 Amanda is the beautiful wife and twin Mama behind the blog The Wilkerson Way. She is also one of my absolute favorites because she was my 1,000th Loyal! Amanda writes about life with multiples and is currently taking part in Project 365! I can't help but swoon over the picture she shares of her two beautiful babies, Emma and Levi!
She recently shared a post on her experience and honest feelings about being a Mom of Multiples! You don't want to miss it!
Be sure to head on over and say a quick hello to Amanda and follow her on Twitter!
Meet Kristen, the voice behind the super cute blog,
c'est si bon
. She is a gorgeous newlywed who blogs all things fine, fancy and fabulous. You should really
click here
to see just a few pictures from her stunning nuptials!
I just adore her home decor posts and reading about some of her favorite indulgences! Check out her latest post as she shares her love (or lust?) for some delicious sky-high wedges!