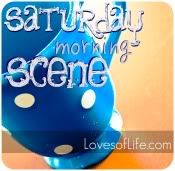 We're linking up with Kate and Eme from Loves Of
Life again to let you in on a sneak peak inside our Saturday Morning. Here in the M household we're Up-Early-Go-Getters thanks to a little guy whose name begins with a "Car" and ends with a "-ter." Who knew that the only one sleeping in on Saturday mornings would be Sheepie? Lucky dog!
So, from SOOC here's a little bit of our Saturday morning!
Ok, maybe The Husband and I were the only ones excited about our brisk Saturday morning walk. We'll try again later today if those pesky weathermen are correct and Mother Nature graces us with temperatures in the high 50's!