This post is brought to you in partnership with Nations Photo Lab.
For additional style tips, be sure to check out the bottom of this post!
There are few things more daunting than having to choose outfits for your family in anticipation of holiday photos. As our family has grown over the past several years, so has the stress of choosing what we'll wear for our annual family Christmas card picture. Who do you start with first? What colors do you choose? What will the backdrop of your location setting be? Most importantly, what will you do with these photos once you have them taken?
Figuring out the answers to the above questions is the first step to nailing your family photos. Since I've become somewhat of a self-proclaimed expert when it comes to dressing a large family for pictures, I'd love to share with you a few tips to make the task seem less overwhelming. It all comes down to the three C's: Coordination, Comfort and Confidence. If you can master theses three, the perfect family photo is in the bag!
1. Color coordination is key.
Do not be afraid of color!
Avoid matchy-matchy and choose a color scheme that consists of no more than 3-4 colors. Keep in mind who will be wearing what and aim to strike a balance between colors worn on top and bottom.
As a family photographer myself, I've seen it all. Families who show up in the traditional (antiquated) white shirts and khakis of yore and the families who absolutely rock a session with perfectly color-coordinated outfits boasting rich jewel tones paired with basic neutrals, getting it just right, down to their patterned socks and carefully selected accessories.
2. Choose comfort over trends.
When choosing outfits for family members, especially children, comfort is key. As if posing for family photos isn't stressful enough, wearing something too stiff, too bulky or too fitted can also make for additional discomfort. If you and your family don't feel comfortable in what you're wearing, you certainly won't look comfortable in your photos. I always tell my clients that they should be able to walk, sit, stand and crouch in whatever they choose to wear. In fact, I almost broke my own rule and wore a dress with heels for our most recent family session with Maryland-based photographers, Megapixels Media. It was during the 11th hour that I completely overhauled my chosen ensemble and looking back, I'm so thankful I opted for pants with a slight stretch to them and a loose-fitting, light sweater. This allowed me to focus less on "are my legs crossed enough," or "am I sucking it in enough?" and more on just being in the moment with my family. If you're confident in your clothing, it will shine through in your photos!
3. Textures and patterns are your friends (in small doses).
When it comes to textures and patterns, the age old saying "less is more" is undoubtedly your best friend. That being said, texture in the form of layers, patterns and accessories is a great and simple way to add richness and dimension to any photo. Furthermore, layers can easily be added or removed for a different look during the same session. If you're looking for simple ways to style texture and layers into your family photos, try adding a vest, scarf or cardigan to anyone's ensemble.
4. Let kids be kids.
The outfit options available to little ones today are off the charts adorable and it's so easy to get caught up in dressing them years ahead of their time. That said, they're only little for so long and there's only so many years you have where you can get away with putting your youngest son in a reindeer sweater complete with puffy pom-pom nose. I will admit, this was not my first choice for him. In fact, the original plan included suspenders and flannel with elbow patches but as soon as I stumbled on this sweater and it fit within the original color scheme, I knew he had to wear it. Once again, I'm so glad I changed my mind at the last minute. Let them be little, as they say!
5. Consider your backdrop.
Finally, and this goes for both the location of your session as well as the backdrop of your home, choose classic clothing styles that aren't too trendy that they'll be out of style before you can get the pictures hung on the wall, while also choosing a location setting that's both comfortable and inviting. Whether you're having your picture taken on a farm full of evergreens or beneath brightly colored Fall foliage, you'll want to choose a color scheme that complements the backdrop rather than clashes with it.
-- -- -- -- -- -- -- -- -- -- -- -- --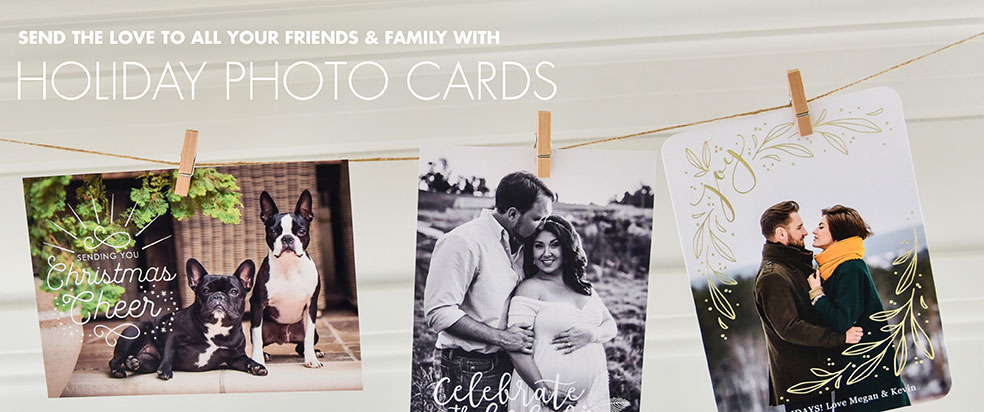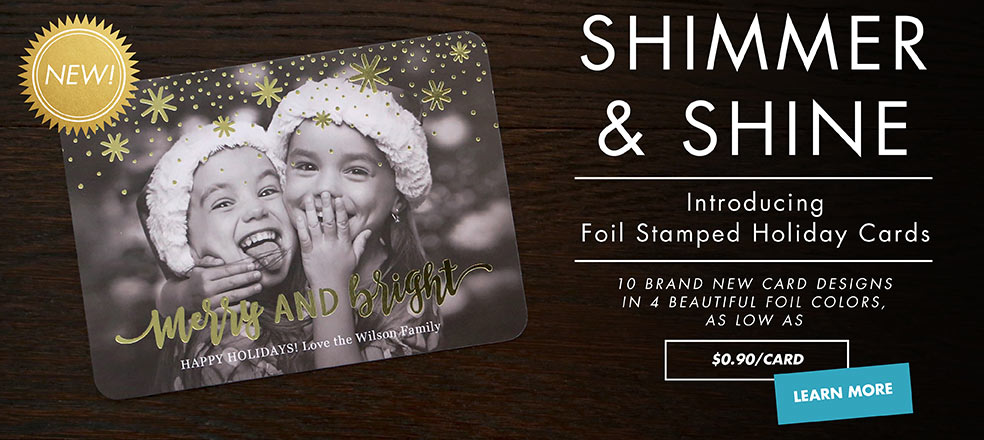 Once you've survived your session, choosing a holiday photo card, especially from Nations Photo Lab, will be cake compared to the hassle of coordinating clothing for family photos! With numerous options, including the popular foil stamped holiday line, it's guaranteed you'll find one that's perfect for your perfect holiday photo.
Be sure to follow me on Instagram as I share sneak peeks of our awesome Christmas cards in the coming days- you won't want to miss them!
To keep up with Nations Photo Lab follow them on Facebook, Twitter, Instagram and Pinterest where they share photo gift ideas, print work, wall decor and more- not to mention incredible holiday savings codes codes!
Good luck! I'd love to see what you chose for your family photos. Feel free to hop on over to my Facebook page and share how you styled your family for pictures in the comment section beneath the post highlighting how to dress your family for holiday photos!
For additional styling tips, check out these posts: