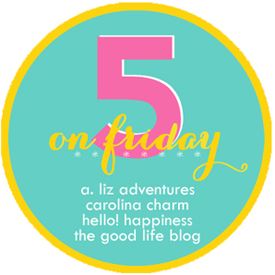 This has quickly become one of my favorite posts to write each week. It's like a brain dump but with a really cute button to go along with it. This week I'm talking about a myriad of things including but not limited to postpartum bellies, babies, bedding and beyond. Be sure to visit Darci's blog and check out the more than 200 other blogger's who take part in Five on Friday!
FIVE: I am aghast at the negative comments I'm seeing surrounding the Duchess' postpartum body. Truly aghast. Let's get something straight- that girl who was probably in better shape before baby than I have ever been my entire life, just had a baby a mere twenty four hours prior to appearing in public. You want to know what a brand new mother's second worst nightmare is? Appearing in public the day following birthing your baby.
I hate to burst the bubbles of those of you unfamiliar with childbirth. You walk out of the hospital looking six months pregnant, on a good day. What's worse? Your leftover belly isn't all firm and tight with baby inside. It's a soft, squishy, jiggly mess whose jiggle literally reverberates throughout your entire body every time you hit a bump on that maiden car ride home. Believe me, it's that awesome.
Rock on with your postpartum body, Duchess mama friend. You look phenomenal and I commend you for not hiding away until you regained your pre-baby figure like most celebrities in the public eye.
FOUR. My poor, sweet sister-in-law. Bless her very pregnant heart. She's expecting her first baby, literally, any minute now. She's a few days past her due date and although I have no idea what it's like to be "overdue" I know exactly what it's like to be ferociously pregnant in the late July heat, wanting to see your baby's face so badly that it drives you temporarily insane.
Each day that she posts a picture to Instagram, a flood of "advice" rolls in. "Do this, eat that, don't do this, do this but do it backwards. " I know that everyone's advice comes from a good place but I had to laugh at one point picturing her heeding everyone's advice while crawling up the stairs like a dog after having downed a smoothie mash up of castor oil, pineapple and spicy pad Thai only to do jumping jacks before hopping into bed with her husband.
That said, this will be my very first nephew and I cannot wait to kiss his freshly baked cheeks. More so, I cannot wait to see my sister-in-law embrace her role as a mother, something she has wanted more than most anything in her life. She's on the precipice of joining one of the greatest "clubs" around and I'm just so excited for them.
I do worry, however, about the vicious Baby Plague that will likely set in the minute I see my husband holding a brand new baby. Seeing myself above at 36 weeks pregnant with Carter does remind me how much I loathe pregnancy those last few weeks.
THREE. I have been interrupted no less than forty-seven times while trying to write this post and I can't finish a single thought for the life of me. I'm sitting here trying to write while Maclane takes his morning nap and what I thought would pacify my other child long enough to sit down for some writing clearly isn't cutting it. I'm shamelessly contemplating pulling out the chocolate.
TWO:
Yesterday on what has become our weekly adventure to Target, I snagged this bedding set for an absolute steal. I was prepared to pay the $69.99 that I noted as I grabbed it from the shelf but was downright shocked when the cashier rung it up with a resounding, "it's your lucky day!" It turns out this 3-piece bedding set is on the verge of being discontinued so it had been marked down on clearance for a whopping $30.
It is absolutely gorgeous and exactly what I've been looking for ever since we bought our house three years ago. I'm now on the hunt for a few accent pillows and as soon as I find what I'm looking for, I can confidently say that our master bedroom is finished! Well, if you don't count the crown molding that I've been bugging my husband to install.
ONE. This little boy turns three on Tuesday. It sounds so cliche but I really can't believe it. I can't believe that we are parents to a three year old. Some days I feel like we really should know what we're doing by now but there are still moments, many moments, where my husband and I just look at each other all befuddled-like. I have a feeling we'll be having these moments even when the boys go off to college. I just love this boy so much. He continues to amaze me every single day!