While Mama folds the laundry,
Carter catches up with some of his
favorite New York Housewives.
"Mama, can you believe Kelly
is actually going to back on
a girl's trip with these crazies!
I can't wait for Morocco! Could you
put a little Pinot in here?"
Have you linked up with Kate and Eme to share your Saturday Morning Scene?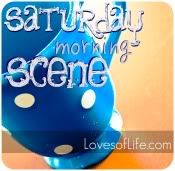 Have a great weekend, Loyals!